Jaro Transportation is a leader in providing Flatbed, Step Deck trucking, and Specialized Equipment for many customers across the United States. We are proud to provide the right equipment at the right time and at the right price. We focus on our customers' needs and safely provide the correct solutions to their transportation requirements.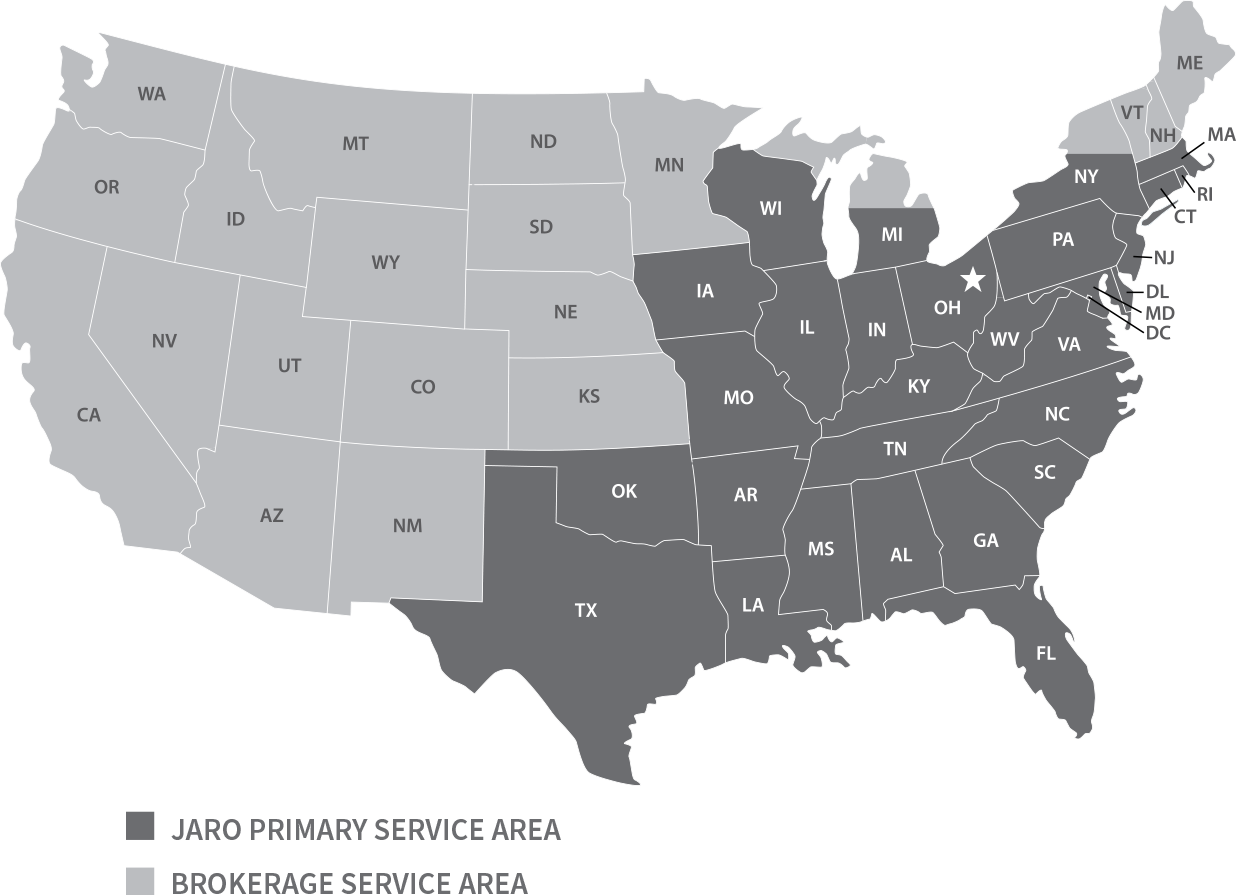 We have 48 state authority, AR, IL, IN, KY, MI, OH, PA & TX Intra-State Authority. As well as Ontario authority.

Ghent, KY
Camden, NJ
Florence, SC
Portsmouth, OH
Springfield, TN
Warren, OH (Corporate Office)
Weirton, WV

Jaro's comprehensive brokerage department brokers nearly 14 million dollars annually. All carriers are pre-qualified and fully insured. Jaro also carries a bridge insurance to handle any claim. Jaro brokerage department has availability to load trucks anywhere in the U.S. and Ontario. Contact us at 330-847-2260 for brokerage opportunities.

We currently have the capability to provide 30,000 square ft. of temperature controlled warehousing. Warehouse facilities are equipped with 2 overhead cranes with a capacity of 30 tons and forklifts with 20 ton capacity. Inventory management system in place to track/trace inventory levels.

Our comprehensive freight audit services are specifically designed to reduce our clients' costs on transportation and logistics. This is a very specialized function requiring experience and solid knowledge of industry standards, best practices and economical alternatives. A thorough comparison of all transactions often reveals significant waste resulting from human error, inefficient supplier selection, or poor use of technology at various levels.

Dedicated Truckload and Less Than Truckload (LTL) Transportation
Jaro offers on-site truck and dedicated driver services. Equipment can be outfitted to handle specific customer requirements and service is typically billed at weekly or monthly rates. In addition, shipments can be consolidated to help offset the cost of shipping smaller products. We offer pricing for any product from a pallet to a truckload.

We offer team drivers or utilize a relay transport to keep the load moving and ensure on-time delivery.